Discover 3 Pizze, the Moderno line oven that is even more spacious. The new 3 Pizze by Alfa is an even larger Made in Italy pizza oven with exceptional performance, in just 30 minutes it is ready to cook the first pizza. 3 Pizze, with its modern design, fits perfectly in all environments that, far from being boring, require zest and colour and is the right size to be placed on top of outdoor kitchens. The 3 Pizze oven by Alfa gives your dishes a perfect and homogeneous cooking experience by taking advantage of the innovative Full Effect Full Circulation Flue System®.
This particular system patented by Alfa allows to retain heat inside the oven's refractory tiles, which are thus able to reach high temperatures and keep them constant. 3 Pizze from the Moderno line by Alfa is available with gas or wood fuel, but thanks to the Hybrid Kit you can transform the gas version into a wood-burning oven, depending on the recipe you want to make or the availability of fuel when cooking.
31 x 20 Inch Cooking Floor
3 Pizza Capacity
HeatGenius Technology
1000 Degree F Max Temperature
30 Minute Heating Time
Fire Yellow Finish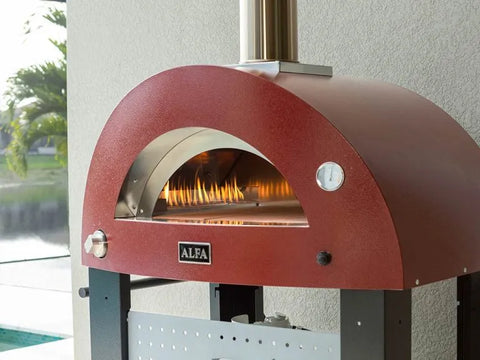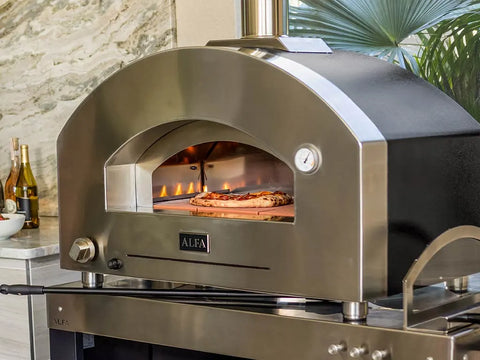 CLASSICO Line
An elegant and timeless design that manages to combine the most traditional shape of wood-burning ovens with the latest technological innovation.
MODERNO Line
Soft, rounded curves, custom colours and all the Alfa technology to convey character to young and dynamic outdoor spaces.
FUTURO Line
Minimalism, functionality and discreet elegance for ovens capable of integrating perfectly into premium outdoor kitchens.
Product title
Vendor
$19.99 | $24.99
Product title
Vendor
$19.99 | $24.99
Product title
Vendor
$19.99 | $24.99
Product title
Vendor
$19.99 | $24.99