A Fire Magic grill that combines tradition and state-of-the-art technology, the 30 inch Built-In Fire Magic Aurora A540i Grill from Outdora is a stainless steel masterpiece suitable for high-demand cooking needs that satiate eager tummies. No lawn and garden should be without one, whether it's a Midwest backyard with umbrellas or an elegant hillside escape. Fire Magic grills withstand wear and tear and adverse weather yet still deliver mouthwatering meals grilled over 540 square inches of patio grill surface space. Couple with a heavy-duty rotisserie (this model is available with or without) and you're on your way to a carnivore's or vegetarian's delight. Outdoor grills fire off 60,000 BTUs of main burner power, which is further boosted by a 19,000 BTU optional Fire Magic grill infrared back burner that sears whatever may be rotating on the rotisserie. Select Natural Gas or Propane, and enjoy a variety of flavor profiles fired on this model. The Fire Magic grill line will surpass any other built-in grill when it comes to your cooking needs. Constructed in the U.S. and the master of backyard barbecue since 1937, this company is touted by the "Today Show," proof that its formula yields successful results. A teardrop-shaped hood promotes feather-light lifting and minimal grease buildup while an electronic 9V push-to-light spark ignition system means wet and cold weather won't deter unseasonable cravings by stifling your flames. This Fire Magic grill also promises evenly cooked food via a digital thermometer and meat probe. Upgrade to a backlit thermometer for after-hours dining. And, if you want barbecues and grills with a few extras, explore the 30 inch Built-In Fire Magic Echelon E660i Grill with Rotisserie and enjoy optional solar power, lighted knobs and halogen interior lights. No matter your needs, Outdora supplies what is necessary – everything from patio furniture to lighting – to keep guests happy. For patio grills that redefine the definition of flare and flavor, celebrate backyard living with an Aurora Fire Magic grill.
Cooking surface: 540 square inches
60,000 primary cooking surface BTUs
18,000 back burner BTUs

Rotisserie Cooking Power:

19,000 BTUs
Digital thermometer with meat probe

Rotisserie Cooking Power:

19,000 BTUs

Optional Infrared Burner
Grill materials: 304 Stainless Steel
Grill dimensions: 32" W x 19.5" D x 25" H
Cutout dimensions: 32" W x 19.5" D x 12" H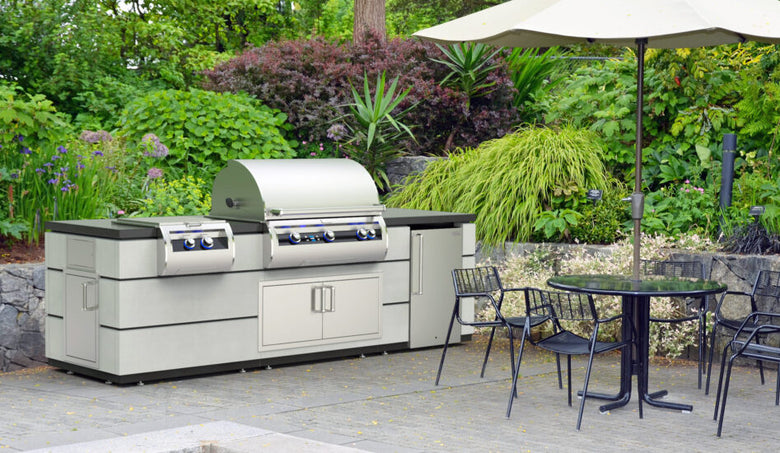 Create Your Dream Outdoor Kitchen
Fire Magic offers the widest array of cooking, cooling and storage accessory options to create the ultimate outdoor kitchen. From side burners to beverage centers, Fire Magic has everything you need to make your outdoor kitchen dream a reality.
Grills
From built-in and stand alone to countertop and post and in sizes ranging from 48`` to 24``, Fire Magic offers a wide selection of grills offering the ultimate in beauty, performance and durability. Every grill is designed to elevate the cooking and entertaining experience.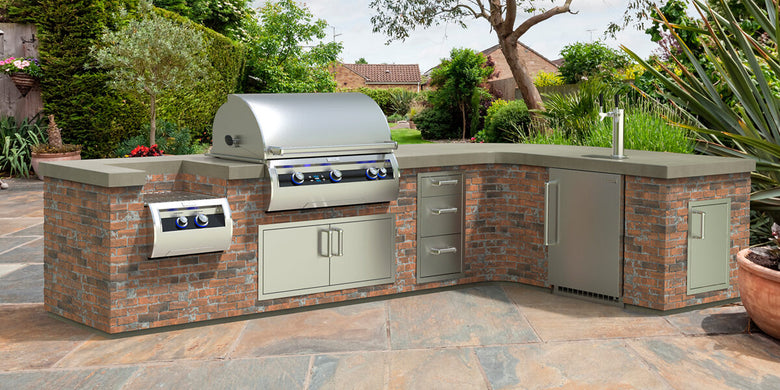 Product title
Vendor
$19.99 | $24.99
Product title
Vendor
$19.99 | $24.99
Product title
Vendor
$19.99 | $24.99
Product title
Vendor
$19.99 | $24.99