A Fire Magic grill that turns every family weekend into a summer vacation, the 36 inch Built-In Fire Magic Aurora A790i Grill with an optional Rotisserie from Outdora propels barbecues and grills to new heights. High quality stainless steel surrounds 792 square inches of searing space and three burners that fire off a total of 90,000 BTUs. Further supplementing the cooking options is a Fire Magic grill rotisserie that sits above a 23,000 BTU burner – slow roast, flame broil and sear; Fire Magic grills deliver gourmet eats conceived in the most far-reaching corners of your imagination. Harness your inner chef or fire off a quick meal, clean-up is easy and flavors are complex.
This company has been known for superior machines since its inception in 1937 and continues to deliver expertly welded models – made in the U.S. – that enhance any patio space. Select either Natural Gas or Propane as a fuel source, and exercise your culinary muscle with the simple push of the electronic 9V push-to-light spark ignition system. Even in adverse weather, this model is reliable.
If you want a Fire Magic grill with extras such as a spring assisted remote powered hood and window, explore the 36 inch Built-In Fire Magic Echelon E790i Grill with Rotisserie for a model that mirrors the Aurora built in grill but offers a few added bells and whistles. On both models, you control heat down to the very degree thanks to a digital built-in thermometer and advanced meat probe with optional back lighting that ensures protein is fully cooked so families stay healthy. Both intimate gatherings and large backyard parties benefit from this outdoor gas grill, and fitting everything from filet mignon to burgers inside the 37.75'' W x 23.5'' D x 12'' H Fire Magic grill is possible. Decorate your home exterior with lighting from Outdora, and make sure your address plaque is in working order. For outdoor grills that turn routine get-togethers into an affair to remember, clear a space for the Aurora Fire Magic grill.
Analog Thermometer in Lid measuring up to 1000℉
Cast Stainless Steel "E" Burners
120 Volt Plug-in Electrical supply with 12 Volt Transformer
Polished, Back-Lit Control Knobs
Push-to-Light Hot Surface Electric Ignition System with Flash Tubes
12" Deep Firebox
Pre-assembled 1/2" x 36" Stainless Steel Gas Flex Connector
Stainless Steel Valve Manifolds
Convertible Regulator with Orifices (Nat or LP)
Cooking Grid Lifter
Halogen 12 Volt Internal Oven Lamps
Seamless Control Panel with Polished Trim
10 Inch Drip Tray with Disposable Foil Tray Liners
Recessed Rotisserie Back Burner with Cover, and Full Rotisserie Kit with Counter Balance
Built-in Storage Rack for Rotisserie Spit Rod
Cooking Area: 36″w x 22″d (792 sq. in.)
Warming Rack: 36″w x 8″d (288 sq. in.)
Main burners: 90,000 BTU's
Backburner: 20,000 BTU's
Cut-out Area: 37″w x 23 1/2″d x 11 1/2″h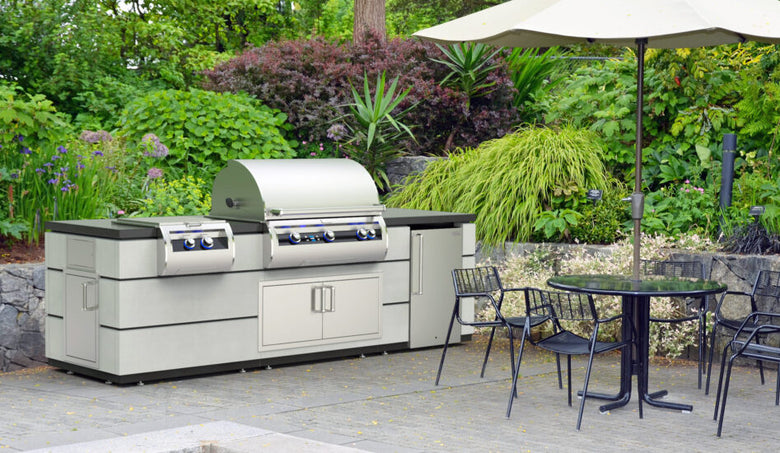 Create Your Dream Outdoor Kitchen
Fire Magic offers the widest array of cooking, cooling and storage accessory options to create the ultimate outdoor kitchen. From side burners to beverage centers, Fire Magic has everything you need to make your outdoor kitchen dream a reality.
Grills
From built-in and stand alone to countertop and post and in sizes ranging from 48`` to 24``, Fire Magic offers a wide selection of grills offering the ultimate in beauty, performance and durability. Every grill is designed to elevate the cooking and entertaining experience.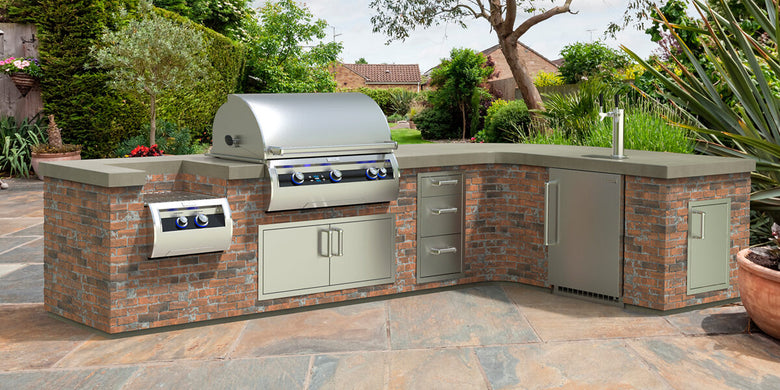 Product title
Vendor
$19.99 | $24.99
Product title
Vendor
$19.99 | $24.99
Product title
Vendor
$19.99 | $24.99
Product title
Vendor
$19.99 | $24.99