A Fire Magic grill is stylish, expertly crafted and equipped with powerful grilling amenities, and the 30 inch Built-In Fire Magic Echelon E660i Grill with Rotisserie will transform your cooking experience like no other. When you have a patio area with the finest masonry and entertaining surfaces, you want a cooker that fits seamlessly into your home decor. Featuring 660 square inches of primary cooking space, Fire Magic grills are made from sleek, weather-hardy stainless steel, prepping this built in grill for the beauty of your pre-existing outdoor kitchen. This model emits 78,000 BTUs on its main grilling surface, plus 11,000 BTUs on its infrared back burner. This back burner is a no-charge upgrade and also the heat source for the Fire Magic grill rotisserie. Other upgrades include: remote control power hood, eco-friendly solar grill power and the choice of Natural Gas or Propane. If you want to keep heat and moisture from escaping your BBQ grill when you can't resist a peek at your soon-to-be dinner, add the Magic View Window, which enables you to monitor food in your Fire Magic grill without opening the lid.

This manufacturer has enhanced homes since 1937 with state-of-the-art models that offer angled halogen lights, a digital multi-colored backlit thermometer, blue backlit knobs and a lightweight spring assisted hood that is also shaped to prevent grease build up. Models with these exceptional capabilities serve summer barbecue to a lively bunch of family and friends with ease and are made in the U.S.

Because our Fire Magic grill is designed with advanced technology, you can sear thick steaks on one side of this Fire Magic grill and light salmon strips on another with convenient heat zone separators. Worried about cooking in the rain? Thanks to the Fire Magic grill 12V electronic hot surface ignition, outdoor grills catch a spark, even during spring showers. Go beyond basic grilling with the wood chip smoker drawer, which is perfect for jerky, smoked salmon and other outdoor delicacies, or use the heavy-duty rotisserie for preparing succulent roasts. A Fire Magic grill from Outdora will make you the most popular outdoor chef in your growing circle of friends. It boasts of numerous high-end features and is a staple among serious barbecue enthusiasts. So, cook with the best and adorn your patio space with a Fire Magic grill.
Analog Thermometer in Lid measuring up to 1000℉
Cast Stainless Steel "E" Burners
120 Volt Plug-in Electrical supply with 12 Volt Transformer
Polished, Back-Lit Control Knobs
Push-to-Light Hot Surface Electric Ignition System with Flash Tubes
12" Deep Firebox
Pre-assembled 1/2" x 36" Stainless Steel Gas Flex Connector
Stainless Steel Valve Manifolds
Convertible Regulator with Orifices (Nat or LP)
Cooking Grid Lifter
Angled Halogen 12 Volt Internal Oven Lamps
Contoured Control Panel with bright polished trim
Master Power Switch
Charcoal/Smoker Basket
Custom Personalized Name Plate
Recessed High Efficiency Stainless Steel Foam Rotisserie Backburner with Cover

Roller BalI Bearing Rotisserie Supports
Super High Torque Motor and Spit Rod with Meat Prongs and Counter Balance
Cut Out Dimensions: 31 1/4"w x 23 1/2"d x 11 1/2"h

Primary Cooking Surface Area: 660 sq. inches (30" x 22")

Primary Burner BTU's: 75,000

Back Burner BTU's: 11,000

Warming Rack Surface Area: 240 sq. inches (30" x 8")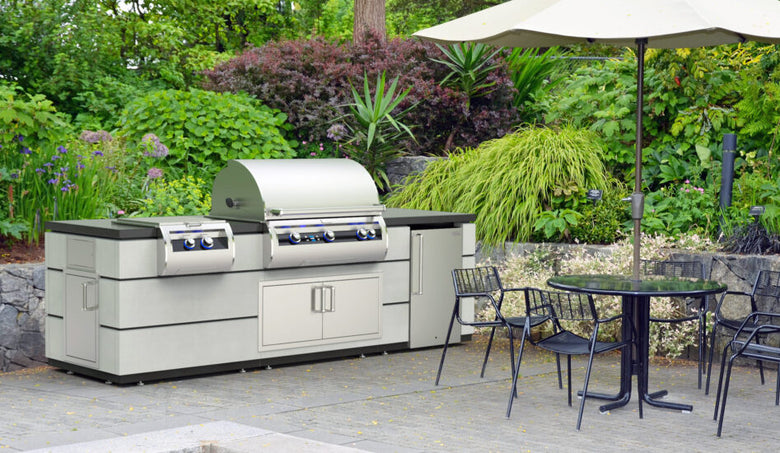 Create Your Dream Outdoor Kitchen
Fire Magic offers the widest array of cooking, cooling and storage accessory options to create the ultimate outdoor kitchen. From side burners to beverage centers, Fire Magic has everything you need to make your outdoor kitchen dream a reality.
Grills
From built-in and stand alone to countertop and post and in sizes ranging from 48`` to 24``, Fire Magic offers a wide selection of grills offering the ultimate in beauty, performance and durability. Every grill is designed to elevate the cooking and entertaining experience.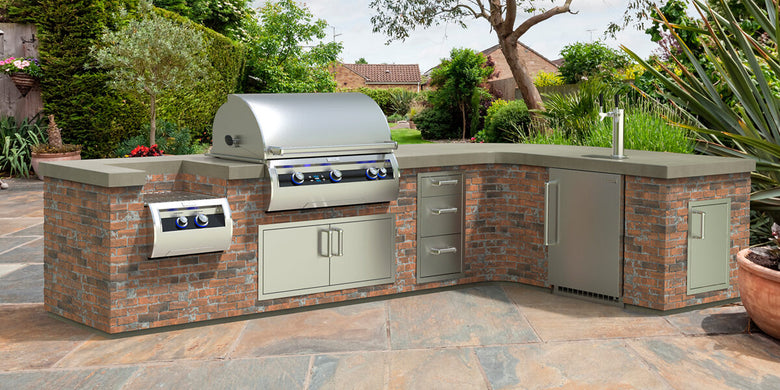 Product title
Vendor
$19.99 | $24.99
Product title
Vendor
$19.99 | $24.99
Product title
Vendor
$19.99 | $24.99
Product title
Vendor
$19.99 | $24.99