After ten years from the launch of the first stainless-steel oven, here is ONE, the new portable wood-fired oven from Alfa. Bring home this compact, light (only 110 lbs.) and superbly designed device. It takes five minutes to assemble it: just screw the leveling feet, insert the flue and the chimney cap and get the party started!
ONE goes from 32°F to 750°F in just 10 minutes and cooks a pizza in 90 seconds.
A portable oven for making true high-temp Neapolitan pizza.
Wood basket included to contain heat source
Four (4) firebricks make up the oven floor to gradually absorb and release heat
Oven floor dimensions: 23.6" x 15.7"
Dimensions when assembled: 29" wide x 41" tall x 22" deep
Pizza peel included
Only 110lbs
Made in Italy
Thanks to the patented Alfa deflector, heat gradually comes out of the flue and ensures stellar performances. The ONE oven mouth is designed to maximize the heat of the cooking chamber and to better rotate the pizza inside it.
The Alfa One Pizza Oven ships in a small box , only (30 x 22 x 18.5 in). In the package, you will find: the door, the flue, the chimney cowl, the levelling legs, the wood basket and "slide in-slide out" pizza peel..
The Alfa Forni pyrometer facilitates the accurate measurement of the temperature according to the type of cooking.

The door comes with a peephole for continuously monitoring food cooking even when it's closed.

The cooking chamber is entirely made of reinforced stainless steel.

The double layer of ceramic fibre insulation used in commercial ovens contains heat and prevents the external frame from overheating.

To bake with the ONE oven, you just need small logs no more than 2 in thick. With 4 lbs of firewood you can really cook throughout the night!

Always use the wood basket so as not to overload the oven with logs and to better manage the food on the floor.

The four oven floor firebricks are nearly 1.2 in thick to gradually absorb and release heat and to guarantee an impeccable cooking.

110 lbs. of made-in-Italy marvel

One minute to assemble it, one minute to cook!

The "slide in-slide out" pizza peel allows you to make the most of your ONE oven cooking pizzas, bread and calzones.
The Accessories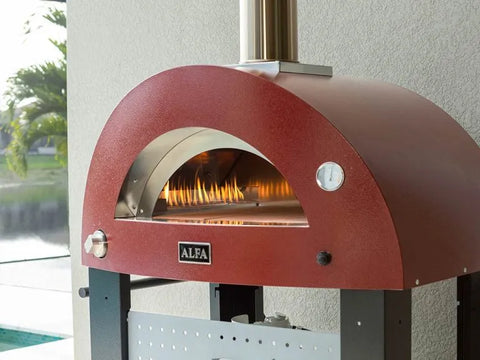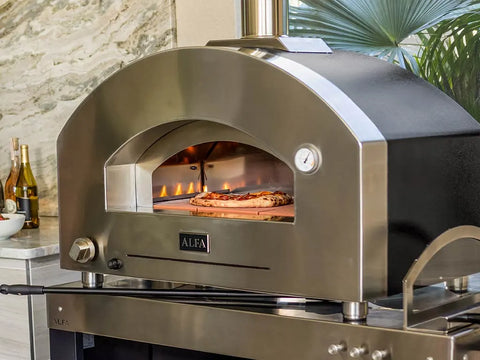 CLASSICO Line
An elegant and timeless design that manages to combine the most traditional shape of wood-burning ovens with the latest technological innovation.
MODERNO Line
Soft, rounded curves, custom colours and all the Alfa technology to convey character to young and dynamic outdoor spaces.
FUTURO Line
Minimalism, functionality and discreet elegance for ovens capable of integrating perfectly into premium outdoor kitchens.
Product title
Vendor
$19.99 | $24.99
Product title
Vendor
$19.99 | $24.99
Product title
Vendor
$19.99 | $24.99
Product title
Vendor
$19.99 | $24.99