A Fire Magic grill that complements modern patio spaces with elegant cooking islands, the 30 inch Built-In Fire Magic Aurora A660i Grill from Outdora turns Southern comfort food into fine dining. Simple treats or fancy feasts are no match for a model that boasts of even grilling and stainless steel construction that is both dashing and functional. This Fire Magic grill distributes 75,000 BTUs over three "E" burners and 19,000 BTUs on an optional infrared back burner that heats a rotisserie. Or, you can simplify the design. These gas grills are also available without the Fire Magic grill rotisserie. Spread everything from steaks to veggies across 660 square inches of space. This built in grill is powered by Natural Gas or Propane – your choice – and is a patio grill worth noticing.

Gourmet barbecue lovers have valued this exclusive company since 1937, enjoying products built right here in the U.S. Today, more culinary power and grace is available than ever before to deliver breezy, fashionable entertaining. The all stainless steel construction makes this model exceedingly strong and weather resistant, and a teardrop-shaped hood helps prevent excessive grease buildup.

The Aurora Fire Magic grill utilizes an electronic 9V push-to-light hot surface ignition system that guarantees a light, even in blustery weather and downpours that would render many outdoor grills useless. Bring out the umbrellas, hammocks and torches from Outdora; this summer is gearing up to be a good one! Especially when a Fire Magic grill arrives practically ready right out of the box. If you decide you need a bigger cooker with more bells and whistles, there are plenty options. The 48 inch Built-In Fire Magic Echelon E1060i Grill with Rotisserie will give you all this and a few extras that include an optional hood window and remote-powered lid. Don't take backyard barbecues lightly. For an outdoor grill that exceeds expectation and awes users, don't hesitate to adopt an Aurora Fire Magic grill.
Analog Thermometer in Lid measuring up to 1000℉
Cast Stainless Steel "E" Burners
120 Volt Plug-in Electrical supply with 12 Volt Transformer
Polished, Back-Lit Control Knobs
Push-to-Light Hot Surface Electric Ignition System with Flash Tubes
12" Deep Firebox
Pre-assembled 1/2" x 36" Stainless Steel Gas Flex Connector
Stainless Steel Valve Manifolds
Convertible Regulator with Orifices (Nat or LP)
Cooking Grid Lifter
Halogen 12 Volt Internal Oven Lamps
Seamless Control Panel with Polished Trim
10 Inch Drip Tray with Disposable Foil Tray Liners
Cut Out Dimensions: 31 1/4" W x 23 1/2 " D x 11 1/2" H

Primary Cooking Surface Area: 660 sq. inches (30" x 22")

Primary Burner BTU's: 75,000

Warming Rack Surface Area: 240 square inches (30" x 8")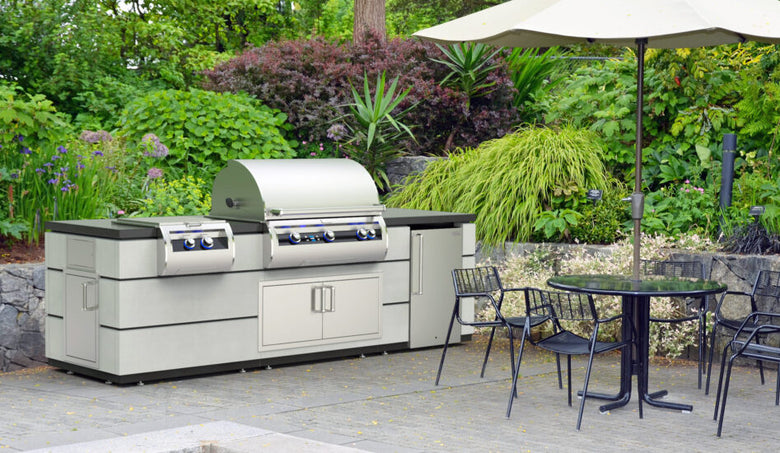 Create Your Dream Outdoor Kitchen
Fire Magic offers the widest array of cooking, cooling and storage accessory options to create the ultimate outdoor kitchen. From side burners to beverage centers, Fire Magic has everything you need to make your outdoor kitchen dream a reality.
Grills
From built-in and stand alone to countertop and post and in sizes ranging from 48`` to 24``, Fire Magic offers a wide selection of grills offering the ultimate in beauty, performance and durability. Every grill is designed to elevate the cooking and entertaining experience.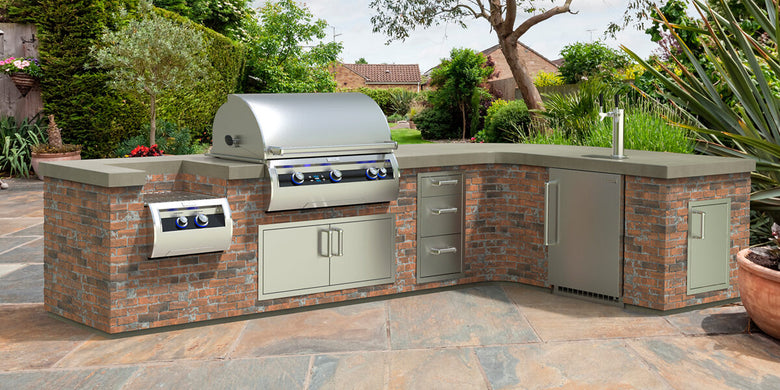 Product title
Vendor
$19.99 | $24.99
Product title
Vendor
$19.99 | $24.99
Product title
Vendor
$19.99 | $24.99
Product title
Vendor
$19.99 | $24.99