30 Inch Freestanding Fire Magic Echelon E660s Grill with Rotisserie and Side Burner.
A Fire Magic grill adds 21st-century elegance to any fine home, and the 30 inch Freestanding Fire Magic Echelon E660s Grill with Rotisserie is crafted from impervious stainless steel, providing sophistication while enduring exposure to the elements. Your sharply decorated patio area will shine when you add this model to existing home exterior decor. Note that this Fire Magic grill features a built-in grill rotisserie, stationary side burners, heavy-duty swivel casters for mobility, and independent heat controls for cooking several courses at once on these outdoor gas grills. The polished, rounded corners on luxury Fire Magic grills add style and safety, fold-down shelves with handles offer handy food preparation space, and a retractable tool holder makes this freestanding grill perfect for holding accessories.

Whether you choose from the Liquid Propane or Natural Gas fueled design, the push-to-light hot surface ignition system propels you toward succulent cuisine during any kind of weather. Bring culinary cooking power to the backyard, and enjoy 78,000 BTUs of heat with an additional 11,000 BTUs on the rotisserie back burner.

With a Fire Magic grill, you can cook multiple meats or vegetables at once thanks to the Fire Magic grill heat zone separators that allow you to monitor each zone individually. A digital built-in thermometer and high-tech meat probe ensure exact cooking as well. Watch your meal brown to perfection atop this Fire Magic grill through the optional Magic View Window, which prevents the loss of smoke, heat and moisture that occurs when opening the lid. Creative outdoor chefs appreciate these cookers for their special amenities, including the grease-resistant hood. Smoke wonderful salmon jerky or seasoned beef with the exclusive built-in wood chip smoker drawer, or slow roast pork and lamb with the BBQ grill rotisserie. The stainless steel burners perfectly distribute this model's intense heat. Available with an optional Power Hood with remote control and a Double Side Burner, these Fire Magic grills leave nothing out, and you can upgrade your Fire Magic grill by adding one infrared burner at no charge. Convert your patio space into a contemporary bistro for all-season use. At Outdora, a seamless outdoor kitchen setup is possible with a sophisticated and fully functional Fire Magic grill.
Zone Flavor Grids
Heavy Duty Diamond Sear Cooking Grids
Heavy Gauge Stainless Steel Adjustable Warming Rack
Seamless Double Wall 90 degree Hood with Feather-Lite Easy Lift Lid
Larger Drip Tray with Roller Ball Bearings and Disposable Foil Tray Liners
Analog Thermometer in Lid measuring up to 1000℉
Cast Stainless Steel "E" Burners
120 Volt Plug-in Electrical supply with 12 Volt Transformer
Polished, Back-Lit Control Knobs
Push-to-Light Hot Surface Electric Ignition System with Flash Tubes
12" Deep Firebox
Pre-assembled 1/2" x 36" Stainless Steel Gas Flex Connector
Stainless Steel Valve Manifolds
Convertible Regulator with Orifices (Nat or LP)
Cooking Grid Lifter
Angled Halogen 12 Volt Internal Oven Lamps
Contoured Control Panel with bright polished trim
Master Power Switch
Charcoal/Smoker Basket
Large Stainless Steel Cabinet
Matching Designer Handles on Insulated Doors
Custom Personalized Name Plate
Flush Mounted Single Side Burner
Rotisserie Kit
Recessed High Efficiency Stainless Steel Foam Rotisserie Backburner with Cover

Roller Ball Bearing Rotisserie Supports
Super High Torque Motor and Spit Rod with Meat Prongs and Counter Balance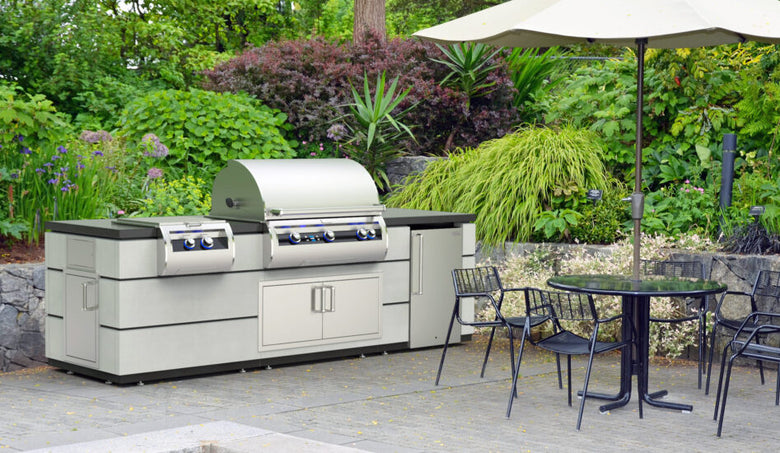 Create Your Dream Outdoor Kitchen
Fire Magic offers the widest array of cooking, cooling and storage accessory options to create the ultimate outdoor kitchen. From side burners to beverage centers, Fire Magic has everything you need to make your outdoor kitchen dream a reality.
Grills
From built-in and stand alone to countertop and post and in sizes ranging from 48`` to 24``, Fire Magic offers a wide selection of grills offering the ultimate in beauty, performance and durability. Every grill is designed to elevate the cooking and entertaining experience.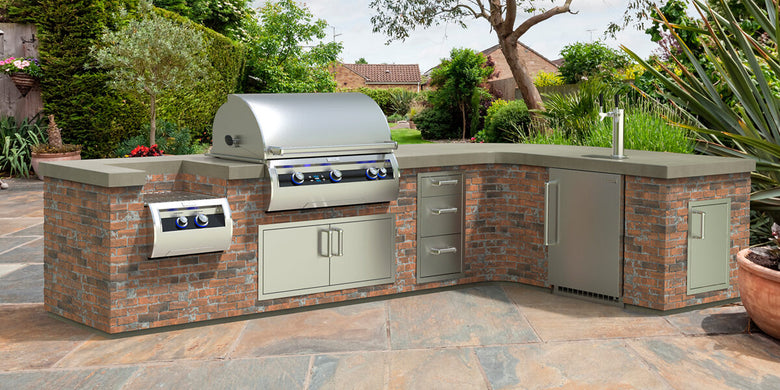 Product title
Vendor
$19.99 | $24.99
Product title
Vendor
$19.99 | $24.99
Product title
Vendor
$19.99 | $24.99
Product title
Vendor
$19.99 | $24.99