Alfa's R&D team has succeeded in producing an oven capable of retaining as much heat as possible by limiting heat loss after a careful study of the cooking chamber's proportions and fluid flows protected by the Alfa Flue System™ patent; in this way, the heat is trapped for a long time inside the Alfa high-density fire bricks so that they reach the good temperature for an even cooking.
Choose how to set up your kitchen nook with an Alfa oven: the Brio comes in the top version so that you can place it on an existing surface in the garden, mount it on its dedicated base or install it on the Alfa multifunction table.
External oven temperatures are moderate because of the triple layer of high-density, ceramic fibre insulation usually used in commercial pizza ovens (30% more insulation than competing products).
The Alfa refractory bricks have higher density to gradually release heat and cook better (40% more retention than competing products).
The Brio dimensions have been especially designed so that the oven can rest on the top of outdoor kitchens (only 76 cm deep).
The Brio's wraparound design will leave all your guests speechless.
Available in the top version to place on the table, the shelf or the dedicated Alfa base.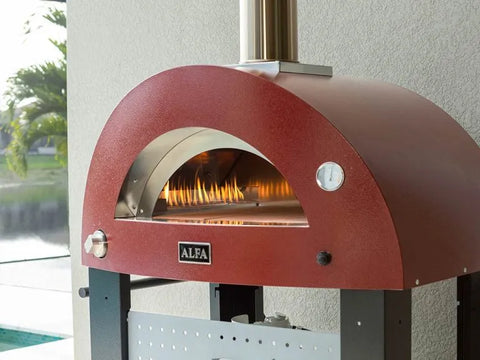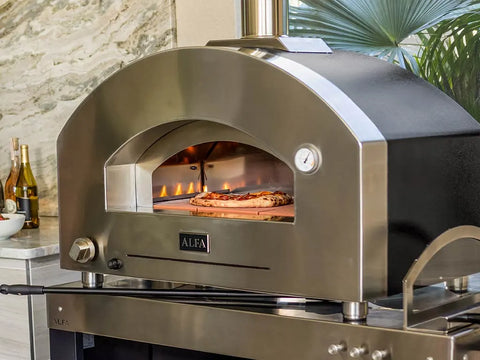 CLASSICO Line
An elegant and timeless design that manages to combine the most traditional shape of wood-burning ovens with the latest technological innovation.
MODERNO Line
Soft, rounded curves, custom colours and all the Alfa technology to convey character to young and dynamic outdoor spaces.
FUTURO Line
Minimalism, functionality and discreet elegance for ovens capable of integrating perfectly into premium outdoor kitchens.
Product title
Vendor
$19.99 | $24.99
Product title
Vendor
$19.99 | $24.99
Product title
Vendor
$19.99 | $24.99
Product title
Vendor
$19.99 | $24.99