Refractory floor and stainless-steel dome. It quickly reaches operating temperature and its door includes a window to allow you to inspect cooking as it goes along.
This wood-burning oven is the best way to bake pizzas, bread, roasts, mixed grills (meat, fish and veggies), casseroles, desserts, basically anything you can do in a run-of-the-mill oven with the definite plus of the healthiness and genuineness that only wood cooking can offer. Easy to move and easier to use.
The distinctively designed Ciao features stainless-steel parts and powder coated ones that withstand very high temperatures.
The stainless-steel dome enables it to reach high temperatures with low firewood consumption.
The oven floor is made of 1.2 in thick interchangeable firebricks that store heat and transmit it to food during cooking.
The ceramic fiber insulation keeps the heat for a long time.
The pyrometer measures the temperature of the cooking chamber.
The door fitted with an ergonomic wood handle allows you to adjust the draft inside the oven by checking the fire.
The two openings below the oven mouth are designed to accommodate the door to always keep it close at hand.
When you get your Ciao delivered, it's ready to use; just insert the flue and screw the legs and the wheels onto the oven. It's easy as pie!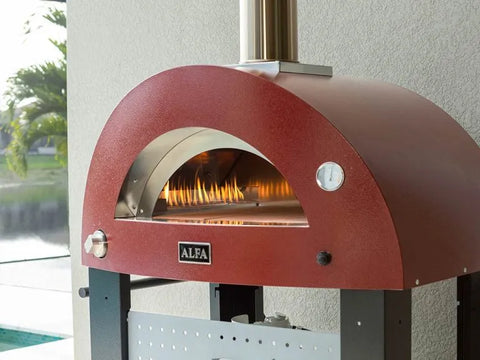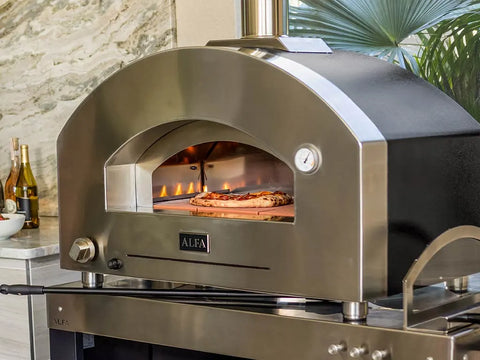 CLASSICO Line
An elegant and timeless design that manages to combine the most traditional shape of wood-burning ovens with the latest technological innovation.
MODERNO Line
Soft, rounded curves, custom colours and all the Alfa technology to convey character to young and dynamic outdoor spaces.
FUTURO Line
Minimalism, functionality and discreet elegance for ovens capable of integrating perfectly into premium outdoor kitchens.
Product title
Vendor
$19.99 | $24.99
Product title
Vendor
$19.99 | $24.99
Product title
Vendor
$19.99 | $24.99
Product title
Vendor
$19.99 | $24.99