Introducing the Alfa Futuro 2 Pizze Gas Pizza Oven, the perfect addition to your home for an unparalleled pizza experience. Designed to cater to 8-18 people, this innovative oven is perfect for gatherings with family and friends.
With the ability to cook 2 pizzas simultaneously, this oven not only saves time but also ensures that everyone gets to enjoy a delicious meal. The Alfa Futuro 2 Pizze Gas Pizza Oven is capable of reaching a maximum temperature of 1000°F, making it ideal for baking 2 kg of bread as well.
Featuring a spacious 70 x 40 cm hob, this oven offers ample space for all your cooking needs. Weighing in at 242 lbs, the Alfa Futuro 2 Pizze Gas Pizza Oven is a sturdy and reliable choice for your home.
Elevate your pizza-making game with the Alfa Futuro 2 Pizze Gas Pizza Oven and impress your guests with your culinary skills.
Hand-crafted stainless steel arch accentuates contemporary design
Reaches 1000°F in 30 minutes
Cooks up to 2 pizzas in just 90 seconds
Spacious hob measuring 70 x 40 cm, allowing you to cook multiple pizzas and other dishes simultaneously
Can bake up to 2kg of bread
Large Glass Door allows you to keep your eyes on the pizza without losing heat
Made in Italy - from design to manufacturing
HeatKeeper Refractory Brick absorbs and stores heat more efficiently than lava or ceramic stones allowing for perfect pizza consistency
DoubleDown Ceramic Superwool Insulation provides double heat resistance compared to rock wool and other competitors.
Full Effect Full Circulation Patented Flue System is designed to circulate heat "around and down" guaranteeing professional quality pizzas every time.
Optional Hybrid Kit

 

allows you add Wood Burning capabilities to the Futuro 2 Pizza Gas Oven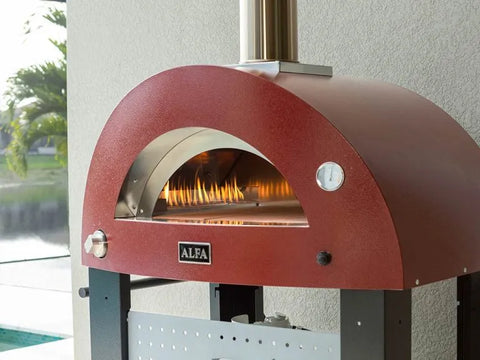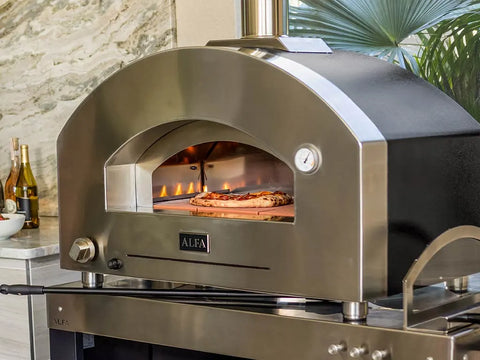 CLASSICO Line
An elegant and timeless design that manages to combine the most traditional shape of wood-burning ovens with the latest technological innovation.
MODERNO Line
Soft, rounded curves, custom colours and all the Alfa technology to convey character to young and dynamic outdoor spaces.
FUTURO Line
Minimalism, functionality and discreet elegance for ovens capable of integrating perfectly into premium outdoor kitchens.
Product title
Vendor
$19.99 | $24.99
Product title
Vendor
$19.99 | $24.99
Product title
Vendor
$19.99 | $24.99
Product title
Vendor
$19.99 | $24.99