Discover 5 Pizze, the largest oven in the Moderno line.The 5 Pizze oven is made to meet all your needs: professional performance and maximum capacity will allow you to organize dinners in company and experiment with great creativity in the kitchen.
A design oven, with a semi-professional performance, which has been created to meet the needs of those who have a large family and many friends to party with.
The 5 Pizze oven is available in both wood and gas version, but thanks to the Hybrid Kit you can decide to transform your gas oven into a wood-burning pizza oven by choosing which fuel to use from time to time.
The selection of materials and the high quality of the internal components ensure the 5 Pizze oven maintains functionality and robustness without compromise.
In just 30 minutes the oven can reach up to 500°C allowing you to cook up to 5 pizzas at the same time, but also roasts, vegetables, bread and much more!
34 x 28 Inch Cooking Floor
5 Pizza Capacity
HeatGenius Technology
1000 Degree F Max Temperature
30 Minute Heating Time
Fire Yellow Finish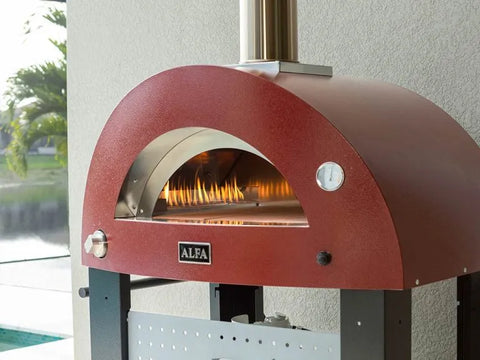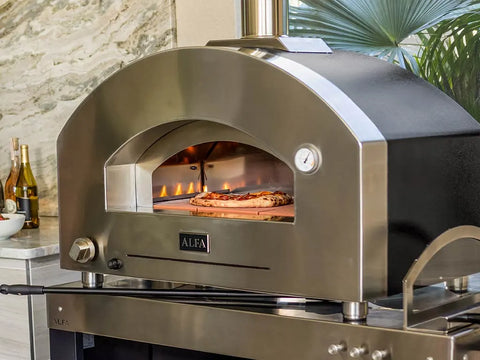 CLASSICO Line
An elegant and timeless design that manages to combine the most traditional shape of wood-burning ovens with the latest technological innovation.
MODERNO Line
Soft, rounded curves, custom colours and all the Alfa technology to convey character to young and dynamic outdoor spaces.
FUTURO Line
Minimalism, functionality and discreet elegance for ovens capable of integrating perfectly into premium outdoor kitchens.
Product title
Vendor
$19.99 | $24.99
Product title
Vendor
$19.99 | $24.99
Product title
Vendor
$19.99 | $24.99
Product title
Vendor
$19.99 | $24.99