36 Inch Freestanding Fire Magic Echelon E790s Grill with Rotisserie

An echelon grill is sleek, smooth and modern with culinary power to spare, and the 36 inch Freestanding Fire Magic Echelon Grill with Rotisserie converts your chic patio and pool area into a sensational outdoor cafe. This model is versatile enough to serve a backyard feast to all your friends or a candlelit dinner to one special someone. You're in charge when you cook on Fire Magic grills, and this echelon grill design features polished stainless steel craftsmanship, powerful side burners, food preparation shelves and heavy-duty swivel casters for easily transporting this echelon grill. As for functionality, the advanced heat zone separators discreetly divide the cooking surface into areas of greater or lesser heat. Such fine amenities are impressive on this echelon grill, and the entire BBQ grill area is 792 sq. in., further emphasizing the qualities that echelon grills are known for: grandeur cooking with superior control.  

Select from a propane or natural gas operation – both fuels emit intense heat with an output of 99,000 BTUs across efficient cast stainless steel burners. The recessed back burners also provide an output of 23,000 BTUs. Push-to-light ignition makes starting this cooker easy, and the precise built-in digital thermometers, advanced meat probes and backlit timers help you maintain control. The wood chip smoker drawer with dedicated burners and specially designed hood that reduces excessive grease build-up only add to this high-end design.

From the various options available with this echelon grill, such as the power hood with remote control, infrared burners (add one at no additional charge), double side burners and the solar grill power option, you can enhance your freestanding grill and further customize this echelon grill design. The Magic View Window is a unique add-on that allows you to monitor food without removing the lid and risking smoke, heat and moisture loss. Last but not least, the included heavy-duty grill rotisserie kit of the echelon grill line is ideal for slow cooking larger cuts of meat over the surface of these barbecues and grills. After dinner, tidy up quickly by emptying the drip tray, tilting up the heating elements for an easy wipe, giving the exterior a fast polish and concealing cleaning supplies in the storage space to wrap things up. Entertaining friends is a breeze with a shiny echelon grill inhabiting your pool and pool space. This manufacturer has been delivering gourmet cooking power in classic style since 1937. Browse built-in grills from Fire Magic at Outdora too, and outdo all the outdoor kitchens on your block with an echelon grill.
Zone Flavor Grids
Heavy Duty Diamond Sear Cooking Grids
Heavy Gauge Stainless Steel Adjustable Warming Rack
Seamless Double Wall 90 degree Hood with Feather-Lite Easy Lift Lid
Larger Drip Tray with Roller Ball Bearings and Disposable Foil Tray Liners
Analog Thermometer in Lid measuring up to 1000℉
Cast Stainless Steel "E" Burners
120 Volt Plug-in Electrical supply with 12 Volt Transformer
Polished, Back-Lit Control Knobs
Push-to-Light Hot Surface Electric Ignition System with Flash Tubes
12" Deep Firebox
Pre-assembled 1/2" x 36" Stainless Steel Gas Flex Connector
Stainless Steel Valve Manifolds
Convertible Regulator with Orifices (Nat or LP)
Cooking Grid Lifter
Angled Halogen 12 Volt Internal Oven Lamps
Contoured Control Panel with bright polished trim
Master Power Switch
Charcoal/Smoker Basket
Large Stainless Steel Cabinet
Matching Designer Handles on Insulated Doors
Custom Personalized Name Plate
Double Side Burner
Two 15,000 BTU Side Burners
Rotisserie Kit
Recessed High Efficiency Stainless Steel Foam Rotisserie Backburner with Cover

Roller Ball Bearing Rotisserie Supports
Super High Torque Motor and Spit Rod with Meat Prongs and Counter Balance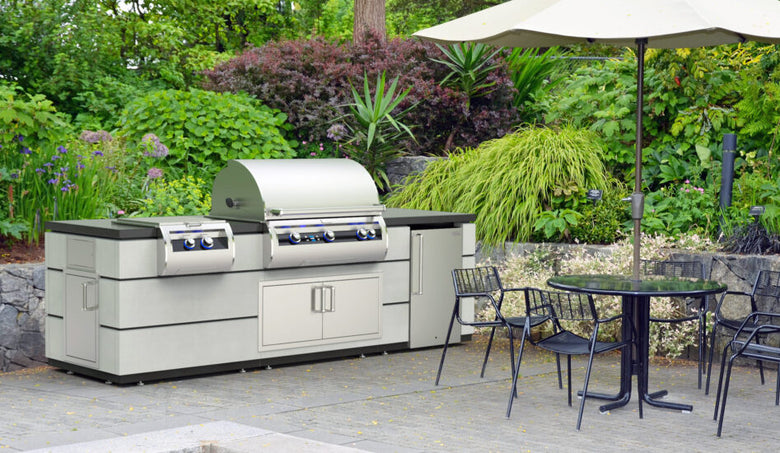 Create Your Dream Outdoor Kitchen
Fire Magic offers the widest array of cooking, cooling and storage accessory options to create the ultimate outdoor kitchen. From side burners to beverage centers, Fire Magic has everything you need to make your outdoor kitchen dream a reality.
Grills
From built-in and stand alone to countertop and post and in sizes ranging from 48`` to 24``, Fire Magic offers a wide selection of grills offering the ultimate in beauty, performance and durability. Every grill is designed to elevate the cooking and entertaining experience.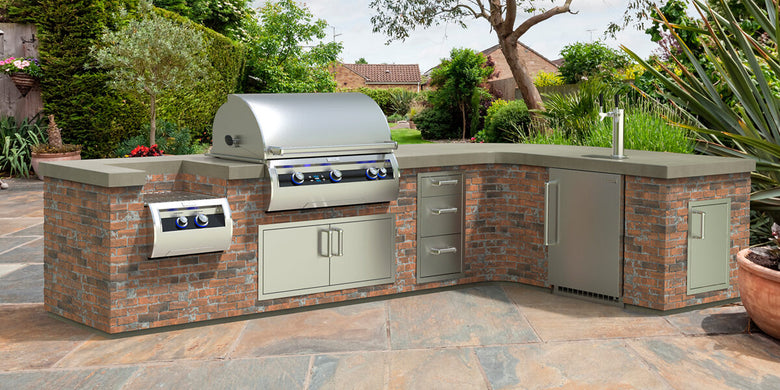 Product title
Vendor
$19.99 | $24.99
Product title
Vendor
$19.99 | $24.99
Product title
Vendor
$19.99 | $24.99
Product title
Vendor
$19.99 | $24.99