Fire Magic introduces the next big thing in outdoor grilling. The all new Aurora A830s Gas/Charcoal Combo Grill combines the best of both worlds in outdoor cooking. The precise grilling and ease of use that comes from an A430s gas grill is matched with the flavor and tenderness of a companion charcoal grill. With an easy to use 26,000 BTU gas burner dedicated to igniting the charcoal or wood fuel, this dual fuel grill eliminates any need for toxic lighter fluids. Which makes the addition of he A830i Gas/Charcoal Combo Grill another way Fire Magic is making the perfect outdoor kitchen a reality.
2 Cast Stainless Steel "E" Burners - 50,000 BTU Total (Gas Side)
Lifetime Warranty on Stainless Steel "E" Burners
1 Stainless Steel Burner - 26,000 BTU Total (Charcoal Side)
Cooking Surface Gas Side - 24" x 18" (432 sq inches)
Cooking Surface Charcoal Side - 22" x 18" (396 sq inches)
Cart Dimensions

Cart Dimensions (Side Shelves Up) - 80" W x 57" H x 25 3/4" D
Cart Dimensions (One Side Shelf Down) - 70 1/4" W x 57" H x 25 3/4" D
Cart Dimensions (Both Shelves Down) - 59" W x 57" H x 25 3/4" D

Shipping Weight - 450 lbs
Electronic Hot Surface Ignition System
110 Volt Plug-in Electrical supply with 12 Volt Transformer
Halogen 12 Volt Internal Oven Lamps (gas side only)
Convertible Regulator (Nat or LP)
Custom Designed Analog Thermometer
Stainless Steel Diamond Sear Cooking Grids
Cooking Grid Lifter
Polished Comfort Touch Back-lit Control Knobs
Seamless Double Wall Water Resistant Hood
All Stainless Steel Construction
Seamless Welded Lid & Control Panel
Unique Adjustable Heavy Gauge Stainless Steel Warming Rack
Feather Lite Easy Lift Lid
16 Gauge Stainless Steel Flavor Grids, Engineered for Durability and Even Heat Distribution
Dedicated burner (26,000 BTU) for charcoal or wood ignition
All stainless steel construction
Stainless steel oven hood
Custom designed analog thermometer
Adjustable airflow charcoal pan for better lighting and cooking
Easy access charcoal door to add fuel
Warming rack
Stainless Steel Construction
Storage Doors with 6" Handles
Condiment Holders
Folding Shelf
Polished Round Corners
Folding Tool Holder and Paper Towel Holder
Heavy Duty Locking Swivel Wheels
10' Quick Disconnect Hose (NAT Models)
Regulator and High Capacity Hose (LP Models)
Sliding Propane Tray with Latch
Optional 16,000 BTU Installed Recessed Rotisserie Backburner with Cover (Gas Side Only)
Optional Rotisserie With High Torque Motor and Spit Rod with Meat Prongs, Counter Balance (Gas Side Only) and Grill Light
Optional Infrared Sear Burners (Gas Side Only)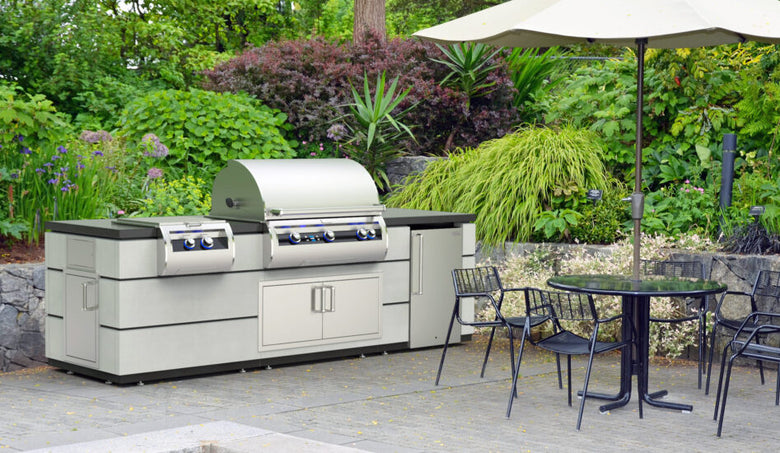 Create Your Dream Outdoor Kitchen
Fire Magic offers the widest array of cooking, cooling and storage accessory options to create the ultimate outdoor kitchen. From side burners to beverage centers, Fire Magic has everything you need to make your outdoor kitchen dream a reality.
Grills
From built-in and stand alone to countertop and post and in sizes ranging from 48`` to 24``, Fire Magic offers a wide selection of grills offering the ultimate in beauty, performance and durability. Every grill is designed to elevate the cooking and entertaining experience.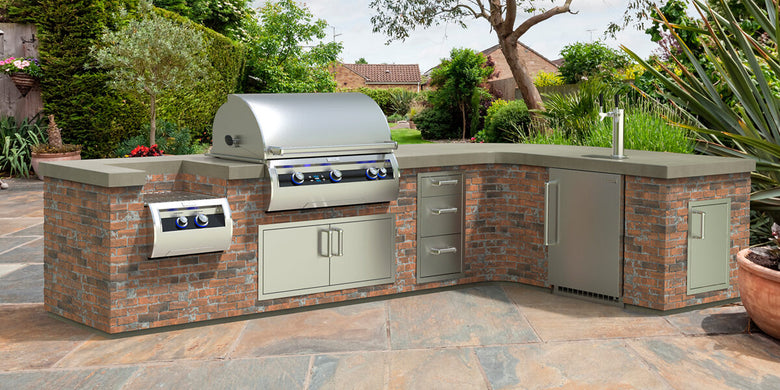 Product title
Vendor
$19.99 | $24.99
Product title
Vendor
$19.99 | $24.99
Product title
Vendor
$19.99 | $24.99
Product title
Vendor
$19.99 | $24.99